Another blog post freshly published by What2SeeOnline.com. I hope you enjoy!
If you love seafood then you have to try the promotional theme Grill-From-The-Sea Buffet Dinner at Taste Cafe in G Hotel Gurney, Penang. Happening every Friday and Saturday, the spread of buffet by the hotel's Executive Chef Mohd Firdaous showcases a plethora of Eastern and Western dishes.
We are already taken with its buffet for a few reasons. Firstly, the menu has a wide variety of freshly caught seafood in addition to poultry and many other juicy types of premium meat. Secondly, the food is grilled over hot lava stones. Thirdly, the atmosphere of the cafe with indoor and alfresco seating is cheerful and welcoming.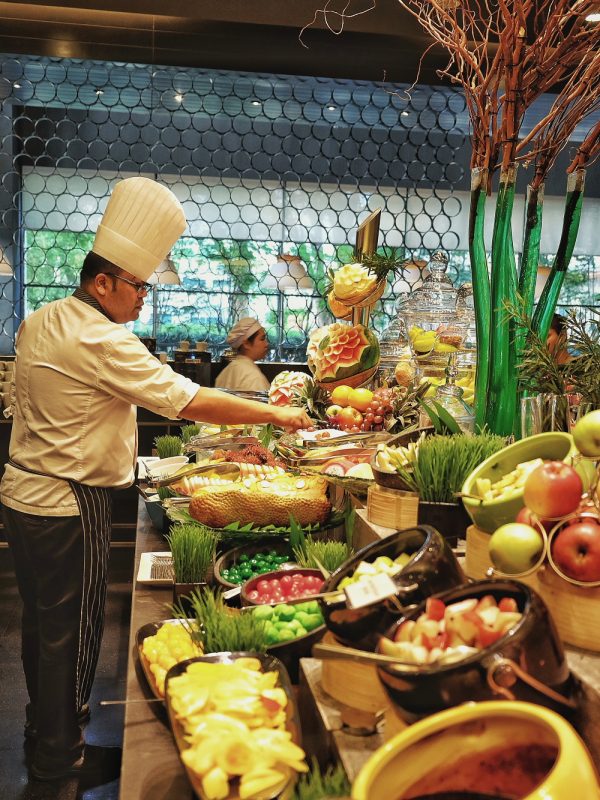 A lovely way to kick off the meal is with refreshing salads and cold dishes. The smoked butterfish, prawn Hawaiian salad, smoked salmon with quinoa and avocado, and scallops with arugula & berries are definitely interesting choices.
Move on to the range of chilled seafood on a bed of ice. Spoil yourself with a galore ranging from plump juicy prawns, crabs, mussels, and fresh delicate oysters on the half shell.
Some of the warm soups that you will find range from the Italian-American specialties like seafood cioppino, a true tomato based soup with lots of seafood flavor, to Asian classics such as crabmeat seafood soup, besides the Japanese Miso soup. If you are in a mood to go for some breads along with the soup, then opt for the freshly baked sourdough or French loafs.
Also on the spread is a variety of delectable mains. Expect to find Western and Chinese hot dishes – seafood pilaf, beef estoufade with bread knodel, chicken breast with capers and olive, oven roasted duck bigarade, and the flavorful Emince of Lamb Puttanesca. The latter is a tomato based Italian sauce dish and the chef put a spin on it by preparing it with slices of lamb!
The Lava Stone BBQ Grill Station is located on the outdoor seating of Taste Cafe. Guests will be rewarded with a myriad of seafood and meat grilled over lava stone. Imported from Indonesia, the lava stone is chosen for its cooking temperatures, which helps enhance the quality of the food by holding its natural flavor and moisture.
Salmon fillet, slipper lobster, Spanish mackerel, lamb shoulders, minute steaks, and beef satay are available for choosing. They also have a selection of dipping sauces where you can mix and match to your liking.
Then there's the carving station. Meat lovers should make a stop for the roasted whole lamb, as well as the roasted beef ribs, all prepared with house-made marination. In addition to the meat, there is also the whole salmon infusedd with fresh citrus and herbs.
For something sweet to end the meal, head over to the dessert bar. Displayed are rows of tastefully made sweet treats – creamy cheesecakes, macarons, brownies, assorted Nyonya kuih, and local fruits. The mango meringue roulade is divine with a slightly crispy edge and creamy mango filling. The chef also has given the options of various fresh local fruits that diners can choose from – rambutan, cempedak, longan, and mangosteen.
Croquembouche

Macarons
The Grill-From-The-Sea Buffet priced at RM160 nett per adult is available on Friday and Saturday with a BUY 2 FREE 1 Promo. Children (aged between 6 to 12), and senior citizens above 60 years old can enjoy it at RM80.
Another ongoing food promotion is the International Buffet Dinner. Priced at RM125 nett per adult and RM62.50 nett per child (aged between 6 to 12), and senior citizens above 60 years old, the buffet is served from Sunday to Thursday.
For details about the buffet and to make a reservation, call +604 238 0000.
G Hotel Gurney

168A Gurney Drive

10250 Penang
First seen here: what2seeonline.com
Trust you enjoyed the info that they shared. Yow will discover other similar blog posts on our main site: Whats On Penang
Leave us your reaction down below, write a comment and let me know which subjects you want us to cover in up coming articles.